1 Studium Glauchau Jobs and trainings
Here you find 1 Jobs and trainings to Studium Glauchau. Add matching Studium Glauchau Jobs and trainings to your saved list. Use your chance to apply for all those Jobs and trainings simultaneously. The most relevant ads are shown first.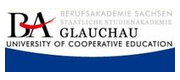 BA Glauchau, Studienbereich Wirtschaf...
Glauchau – 17-10-2018
... . Die Arbeitsmarktsituation ist für Wirtschaftsinformatiker hervorragend. Die Nachfrage nach Wirtschaftsinformatikern ist ungebrochen hoch, da die Unternehmen mehr und mehr von IT-Anwendungen durchdrungen sind. Das Studium der Wirtschafsinformatik [...] ist methoden- wie auch anwendungsorientiert und bereitet die Studierenden auf vielfältige berufliche Einsatzmöglichkeiten vor. Die Studierenden erwerben durch das duale Studium in Theorie und Praxis die Kompetenzen, Kenntnisse, Fähigkeiten und
Your search yields not the right results?
Make sure that there are no typing errors or apply here unsolicited