Rohde & Schwarz obtient la certification de l'administration de la sécurité des transports (TSA) pour son scanner de sûreté R&S QPS200
Fri, 17 Nov 2017 10:42:11 +0100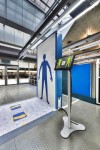 Le R&S QPS 200 de Rohde & Schwarz est le tout premier système de contrôle de passagers à être certifié par l'administration de la sécurité des transports pour une utilisation au sein des aéroports internationaux et américains, ainsi que pour d'autres points de contrôle en termes de sécurité.
---
Other current blog posts of the organization
Rohde & Schwarz Cybersecurity
Rohde & Schwarz Cybersecurity schützt Unternehmen und öffentliche Institutionen weltweit vor Spionage und Cyber-Angriffen. Mit hochsicheren Verschlüsselungslösungen, Next-Generation-Firewalls sowie Software für Netzwerkanalyse und Endpoint-Security entwickelt und produziert das Unternehmen technisch führende Lösungen für die Informations- und Netzwerksicherheit. Rohde & Schwarz ist seit über 20 Jahren im Bereich IT-Sicherheit aktiv und baut das Geschäftsfeld weiter aus.