Agile Mythen und Pizza beim Fachgruppentreffen Agilität Franken
Mon, 30 Apr 2018 11:40:23 +0200
Agilität ist mittlerweile ein Begriff der den meisten Menschen in der IT-Branche bekannt ist. Befasst man sich jedoch nicht tiefer mit der Thematik, entstehen schnell Mythen, die ein falsches Bild und Ressentiments zurücklassen. Wie kann man dem entgegentreten? Am besten, indem man die Mythen untersucht und für Aufklärung sorgt!
Mit diesem Ziel hat sich die Fachgruppe Agilität Franken am 24. April 2018 getroffen. Eingeladen hat der ASQF mit der Firma isento GmbH in Nürnberg. In lockerer Atmosphäre und mit einem Stück Pizza in der Hand gab es zunächst eine kurze Einleitung und Vorstellung der Firma isento GmbH. Die Moderatoren Tanja Witzke und York Dycks erklärten dann das Vorgehen der Verantstaltung. In drei Gruppen wurden zunächst Mythen gesammelt, unter Anderem: "Agilität braucht keine Dokumentation", "Agilität steht für totales Chaos", "Mit Agilität ist man schneller", "Agilität ist planlos", "Agile Projekte scheitern schneller", "Agilität kostet weniger".
Im "World Café"-Format untersuchten die Gruppen die Mythen im Detail, unterstützt von den Moderatoren. Das Ergebnis: die meisten Mythen erwiesen sich nach einem genauen Blick als falsch. Den Mehrwert der Veranstaltung sahen die Teilnehmer nicht im Ergebnis sondern in der lebendigen Diskussion der Mythen und den damit einhergehenden Erfahrungs- und Wissensaustausch.
Auf den bunt beschriebenen Tischdecken kann man die Ergebnisse im Detail nachlesen. Abgerundet wurde der Abend mit ausgiebigen Networking und Getränken. Ein herzliches Dankeschön für die Organisation des gelungenen Abends an die Moderatoren und die Firma isento GmbH!
---
Other current blog posts of the organization
Arbeitskreis Software-Qualität und -Fortbildung e.V.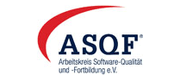 Der Arbeitskreis Software-Qualität und -Fortbildung e.V. (ASQF) ist das Kompetenznetzwerk für Software-Qualität im deutschsprachigen Raum. Die über 1.200 im ASQF engagierten Global Player Unternehmen, leistungsstarken Mittelständler, Fachleute, Hochschulen und Forschungseinrichtungen vereint der gemeinsame Einsatz für hohe Standards in der Informations- und Kommunikationstechnologie. Know-how, Produkte und Dienstleistungen auf höchstem Niveau zu schaffen ist besonders in der Software-Branche mit ihrem starken internationalen Wettbewerb entscheidend. Die ausgezeichnete Qualität der Software-Produkte ist der strategische Wettbewerbsvorteil und damit Standortfaktor Nummer 1. Diesen Qualitätsvorsprung zu sichern und nachhaltig auszubauen ist daher oberstes Anliegen der ASQF-Mitglieder in Deutschland, Österreich und der Schweiz. Dieses Anliegen wird im ASQF gebündelt und verstärkt.