Alles Gute für 2021!
Tue, 29 Dec 2020 10:32:00 +0100
Wir wünschen allen Studierenden, Hochschullehrern, Mitarbeitern, Absolventen und den Besucher unserer Webseite einen guten und erfolgreichen Start in das neue Jahr.
---
Other current blog posts of the organization
Hochschule für Telekommunikation Leipzig (HfTL)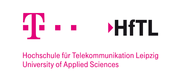 Die Hochschule für Telekommunikation Leipzig (HfTL) zielt mit ihren akkreditierten Bachelor- und Masterstudiengängen im Präsenzstudium und im dualen Studienmodell auf eine moderne und praxisbezogene Ausbildung ab. Wir bieten unseren Studierenden eine fundierte Wissensvermittlung kombiniert mit einer überschaubaren Studiendauer. In unseren dualen Studiengängen, welche in Kooperation mit der Deutschen Telekom AG angeboten werden, ist die Kombination aus betrieblicher Praxis und akademischer Wissensvermittlung an der Hochschule einmalig.