Sensry Dresden und MST Berlin kooperieren für's "Internet der Dinge"
Mon, 11 Jan 2021 00:00:00 +0100
Die Unternehmen Sensry GmbH und Micro Systems Technologies (MST) haben heute den Abschluss einer strategischen Zusammenarbeit bekannt gegeben, bei der Synergien zwischen und Interessen beider Unternehmen genutzt werden, um gemeinsam auf dem Markt des Internets der Dinge (IoT) zu wachsen. Auf Basis des modularen Sensor-Baukastens von Sensry können sich Kunden (auch KMU) individuelle Sensor-Elektronik-Module entwickeln - und die Montagetechnik dafür bei MST zu nutzen bzw. zu ordern.
---
Other current blog posts of the organization
Wirtschaftsförderung Sachsen GmbH, standort-sachsen.de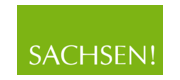 Die Wirtschaftsförderung Sachsen baut Brücken: zwischen sächsischen Unternehmen und auswärtigen Kooperationspartnern, zwischen potenziellen Investoren und den sächsischen Regionen und Kommunen, zwischen Forschung und Praxis, zwischen Unternehmensideen und wirtschaftlichem Erfolg.